World is changing at a very brisk pace, user habits are changing, there are economic and social factors that can have an impact on sales and brand reputation, managing teams is a challenge and all these factors need immediate adjustments in your Retail Distribution Strategy. Following are trends and events that will have a key impact and should be considered while building merchandising or brand strategies:
Diversity Matters, must act now.
Quote this great piece from https://www.businesscasual.fm/ on how companies and brands need to stop thinking and start acting. Time to walk the talk!
Companies and brands that are looking at brushing this issue under the carpet need to comprehend that times have changed, diversity & accountability will impact reputation and will definitely hurt profit.
The entire organization needs to be on the same page and this should be reflective in policies, incentives, campaigns and human resources, simple because companies that prioritize diversity do better. According to McKinsey, in 2019, companies in the top quartile for ethnic diversity financially outperformed those in the bottom quartile for diversity by 36%.

Corporations need to have an opinion and clearly state what they stand for, because users are noticing and new young customers are very vigilant and this is part of their brand loyalty checklist.
If you had the opportunity to become excellent right now, immediately—why would you turn it down? When corporations don't hire from diverse backgrounds and promote Black workers, they're doing just that…leaving excellence on the table, as Edith puts it.
Change the thinking pattern, there is accountability out there, do an internal audit, be open and act now.
Is Online Boom here to stay?
"The customer demand we expected over the next two-to-four years on the Instacart platform has happened in the last two-to-four weeks," said Instacart's CEO in early April.
Is the online shopping boom in grocery shopping here to stay? From peaking from 200% growth in April to more realistically 100% in May. There is a 'freedom' in June as consumers want to go out and enjoy the weather, but they experienced online shopping and results were not all disappointing. So the prediction is there will be a correction in the growth trajectory, but COVID was the watershed event for online shopping.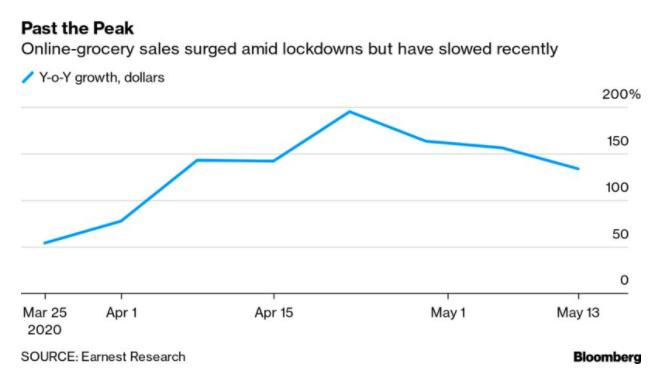 Shopify is Innovating and brands should take notice on how to leverage it.
Shopify has stood out as one of the key companies to come out as a winner post COVID. Shopify Inc. has displaced Royal Bank of Canada (RBC) as the nation's largest public company. The ecommerce platform provider's market capitalization surged to $120-billion. How can a brand leverage this? Here are some events that should make Shopify part of retail and brand plans:
Walmart partners with Shopify to expand its online marketplace. Shopify, now used by over 1 million businesses. How can this partnership has an impact on sales, sales network, resellers etc.
Shopify Balance, which will launch later this year, will give merchants an account where they can manage their cash flow, pay bills and track expenses. It will also include a Shopify Balance Card — a virtual and physical card that businesses can use to access their money, and earn rewards for their business expenses. Is this a sales opportunity in B2B?
Shopify is also launching "Shop Pay Installments," a buy now, pay later option at checkout that will give customers the option to split purchases into four equal payments over time. The payments are interest free and come with no additional fees, according to the company. Can our products be part of this deal?

Look out for new opportunities as companies are innovating and opportunities are being created.
Consumers are saving more, spending less?
Consumer spending drives nearly 70% of the U.S. GDP, so an elevated savings rate could be detrimental to the economy in the long-run.
There's nothing to spend money on. Office work, events, sports, conferences, vacations, weddings, birthday parties, and more were all canceled.
Stimulus checks of up to $1,200 hit millions of households, driving up personal income to record levels.
With unemployment at 13.3%, Americans are feeling nervous about their job prospects.
It further confirms that this recession is one of the weirdest ever. In past downturns people stopped spending on big-ticket items like cars, while keeping up their spending on basic services. That's flipped this time around, because many of those services (like haircuts) require in-person interactions that can lead to the spread of the virus.
Will consumer durables sales increase? Higher savings will result in what opportunities in non experiential market segments?
All these trends are extremely interesting and unique, re-building strategies is key and intelligent data driven decision making is key.
Credits:
https://www.businesscasual.fm/
Morning Brew